Rare 1930 Model A Ford 170-B Deluxe Fordor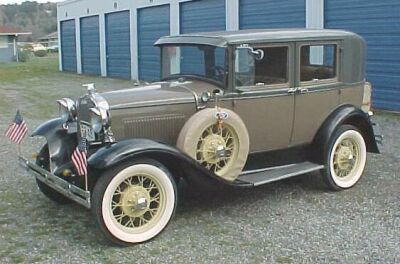 This is a very rare Two Window Fordor or 170-B Deluxe Fordor produced by Henry Ford in 1930. The Deluxe Fordor was produced for a twelve month period between April 1930 and April 1931. A mere 13,594 were produced between the two model years. According to the VIN # 3792572, this one came off the Ford assembly line in August 1930. This beauty looks like it just rolled off the assembly line yesterday.
Even the Deluxe Fordor came with options and this car has them all. It has the rare Cowling Lights, Dual Side Mount Spare Tires, Special Grille Guard and I just love the "trunk" on the back!
Check out the Quail Hood Ornament. There are not many of those around today. My personal favorite is the etched roses on both front side windows. This car is "class" all the way.
The interior is all is the original mohair. What a ride!
Oh for the good old days when Deluxe was really Deluxe!
| | |
| --- | --- |
| | |
This is what Ford had to say about this Deluxe Fordor back in 1930:
The Engine was an L-head 4-cylinder, 'cast en bloc' type. It had a 3-7/8" X 4-1/4" bore and stroke with a displacement of 200.5 cubic inches. SAE horsepower of 24.03 with brake horsepower rated at 40 at 2200 rpm. Typical gas mileage was between 20 and 30 mpg using a Zenith one barrel carburetor. It's 103.5" wheelbase rode on 4.50 x 21" tires with a gear ratio of 3.77:1. The transmission was a 3 speed sliding gear unit with 1 speed reverse. The Model A had 4 wheel mechanical brakes and Houdaille, double action hydraulic shock absorbers with semi-elliptic front and rear transverse springs. Top Speed was around 65 mph. Standard equipment on all Models included a Starter, Five Steel Spoke Wheels, Dashlight, Mirror, Windshield Wiper, Oil Gauge, Gasoline Gauge, Rear and Stop Light, Speedometer, and Pressure Grease Gun Lubrication.
The engine, transmission, clutch and rear end are all NEW! (rebuilt). What a dream car!
I can't think of anything else to tell you about this wonderful car. Please email me with any questions. I am selling this for a friend so if I can't answer your questions he can give you a call. Buyer is responsible for arranging pick up or delivery. One half the payment is due within 10 days after the auction closes. The second half upon delivery. Payment should be in the form of a cashier's check or a credit card payment can be worked out thru Paypal or Ebay's Billpoint. Any taxes, license fees, etc are the responsibility of the buyer.